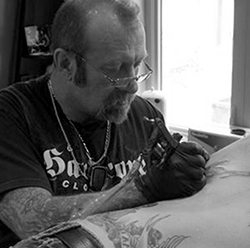 Don't misjudge me as bitter, understand me as a realist
Don't misjudge me as bitter. Understand me as a realist. I have seen and experienced the atrocities of humanity and am content in my understanding of the cycle of life/death and I have seen death/life, from both sides and am at peace with that. I can judge from a perspective of experience, not from a place of ignorance or ego.
I don't need to follow, I prefer to lead, and have witnessed first hand the shallowness of some people's commitment to life. Do not expect me to patronize their egos for I will not extend my hand of friendship to those who do not deserve it. You can judge me how you please but I will not change who I am to fit your narrow perspective of who you think I should be. Interested? See More of Bear's Personal Blog
WATCH FOR BEAR'S NEXT BLOG! COMING SOON!Bear will be posting blogs with topics ranging from tattoo stuff, to political stuff and stuff you probably want to know but were too afraid to ask Stand by to be entertained and amused!
read more
New Location as of September 1st, 2018!WE MOVED! As of September 1st, 2018, we moved into our new location and things are going great!  Drop down for a coffee, a consultation with your favorite artist and bring in your ideas for your new tattoo work.  We do a lot of...
read more